TRUSTED VENDOR
Staff member
Joined

Dec 3, 2020
Messages

833
A criminal case has been opened against the leaders and employees of the CryptoUniverse company, which provides services in the field of cloud mining, on suspicion of large-scale fraud. The resolution on this is dated September 14, according to the Telegram-channel Trade Union of Miners.
The reason for the opening of the criminal case was the statement of the citizen, which was received by the Ministry of Internal Affairs in St. Petersburg on June 30. Source: Telegram channel "Trade Union of Miners" The victim reported that in the period from July 18, 2018 to April 7, 2020, the managers and employees of CryptoUniverse LLC convinced him to purchase equipment for mining cryptocurrencies in the amount of over 25.3 million rubles and transfer it to technological management of CryptoUniverse Retail LLC.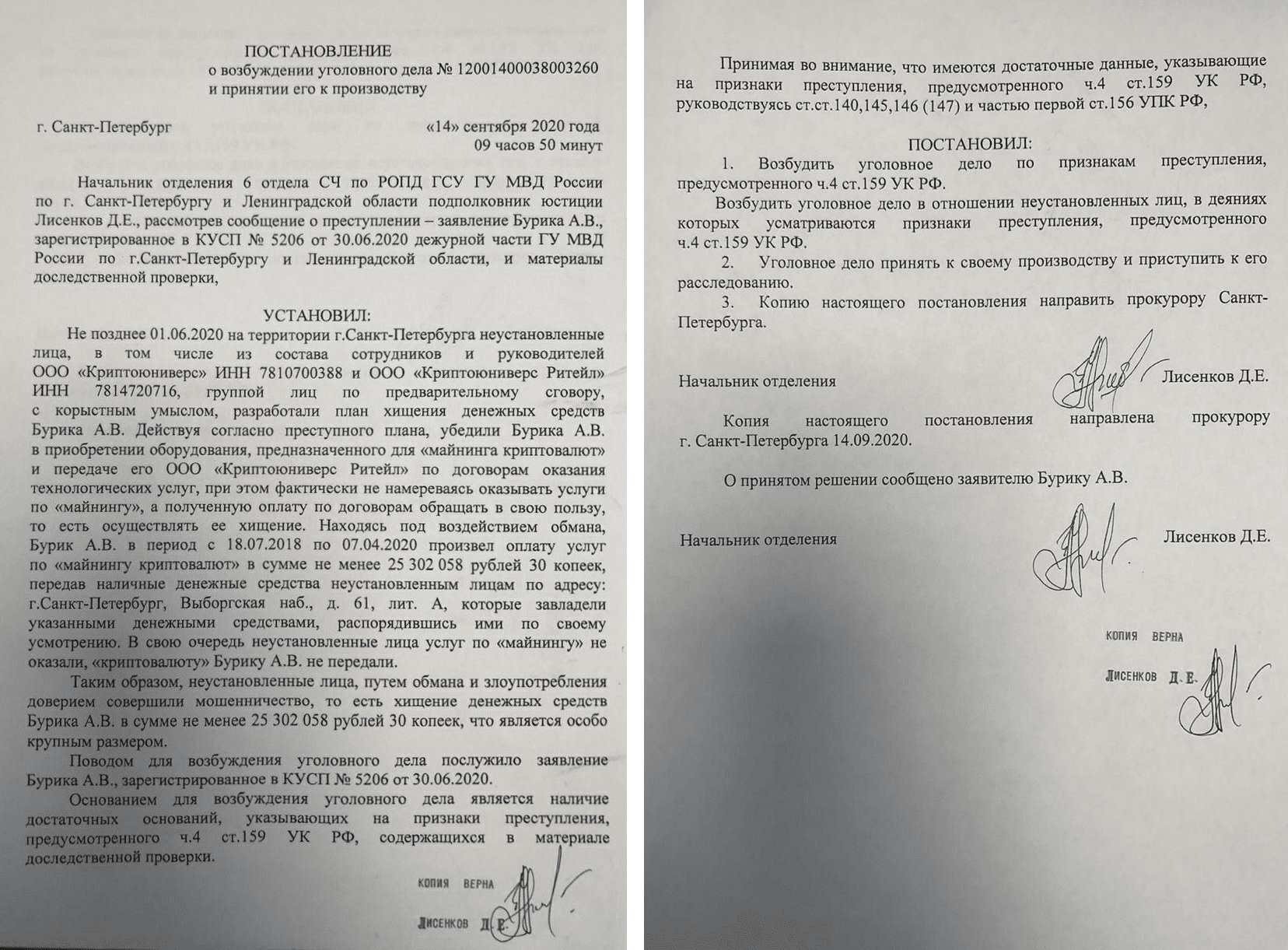 "In fact, these persons did not provide mining services, they did not transfer the cryptocurrency to the client, and the payment received under the contracts was stolen and disposed of at their discretion," the resolution says.
According to law enforcement officers, the materials of the pre-investigation check contain sufficient grounds for opening a criminal case on the fact of fraud on an especially large scale.

The suspects are currently being identified and an investigation is underway.

ForkLog has solicited comments from CryptoUniverse representatives.

Recall that the CryptoUniverse company, registered in Estonia, has been operating on the Russian market since 2017. It provides cloud mining services for cryptocurrencies and rents out premises for mining farms.

According to the information on the project website , CryptoUniverse owns "the two largest data centers in Europe" with a total capacity of 42 MW and a hash rate of 319.6 PH / s.

The company is a member of the RAKIB association. Among others, in October 2019, she rented the premises of the Nadvoitsky aluminum plant in Karelia, owned by Oleg Deripaska's Rusal.